May 2018
PROTEO INTERNATIONAL S.r.l. has renewed a product acting on rooting, length of the internodes and flowering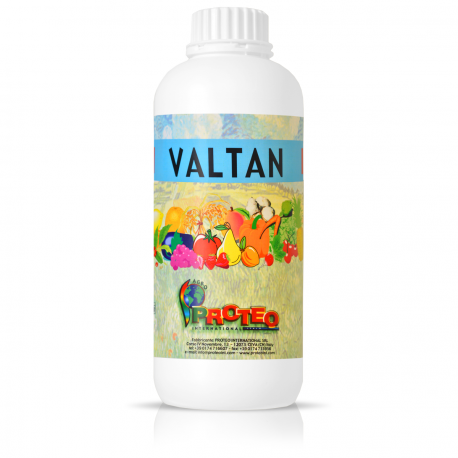 PROTEO INTERNATIONAL S.r.l. in May 2018 has ameliorated and renewed an important product in the line of the Specialty Product: VALTAN.
VALTAN is an historical formulation that thanks to the experiences, studies and research made by PROTEO INTERNATIONAL S.r.l. has been improved in terms of innovation and efficiency.
VALTAN is a fluid formulation of natural origin containing extracts of Ecklonia maxima, yeast and other organic compounds.
What does VALTAN do?
• it favors the re-organization, distribution and stimulation of the endogenous synthesis of auxins and cytokinins;
• thanks to its composition, it has a strong effect on the increase of the root mass (consequently, it is recommended for plant engraftment, post transplanting stress and promoting the efficient absorption of nutrients and water);
• it helps the regulation of the length of the internodes, avoiding their excessive growth with consequent weakness of the tissues;
• used at reproductive stage it increases number and fertility of flowers and quality of the fruit set positively affecting the final quality of the production.
Why choose VALTAN?
• because it is obtained through a non-invasive production process that does not alter the active principles of the raw materials used;
• because Ecklonia maxima used in the formulation, compared to other seaweeds used in other products available in the market, has a unique and specific ratio between auxins and cytokinins;
• because it has extracts of yeast and amino acids with a synergistic function on the treated crop;
• because it also contains Nitrogen, Phosphorus and Potassium;
• because it increases the root development and reduces the length of the internodes even in stressful soil and bad growing environment;
• because it gives a beneficial stimulation and homogenization of the flowering.
How and when use VALTAN?
• it is recommended in fertigation and in foliar application;
• the dosages range from 2 L/ha to 8 L/ha in fertigation, and from 0.5 L/ha to 2.0 L/ha in foliar application, according to the crops.
VALTAN is allowed in organic farming.
Available in different packaging.